Bebird Pro M9 Ear Wax Removal Tool Safely Cleaning Ear Canal at Home,Ear Cleaner with 8MP HD Camera and 6 LED Lights, Ear Camera and Wax Remover for iOS, Android Smart Phones M9, Black/ Red/ Dark Green
8 Megapixel HD & Water-Resistant Camera: BEBIRDPRO M9 ear wax removal tool with an 8-megapixel 1080p HD camera and 3.5mm tiny lens providing a rich and clear image for effectively removing earwax. IP67 water-resistant & dust-proof camera is easy to clean with water or alcohol and hygienic to share with the whole family.
Wide Compatibility: Simply connect the earwax removal tool to the app allowing you to stream precise videos of your ear canal. Compatible with most iOS and Android devices. Stream or save videos or images of your ears, mouth, and nose when cleaning. 6 different types of ear tips (Large, round, and small), 1 ear speculum, and 10 ear speculum covers for you to mix and match.
Comfortable Temperature: Earwax removal tool uses intelligent temperature control to maintain the temperature of the main body and endoscope for a comfortable and safe clean. No need to worry about the device overheating when using for long periods of time.
Portable & Magnetic charging: The Bebird M9 uses a cap to cover the endoscope keeping it clean and hygienic when taking on short vacations and business trips. Uses a USB-A to magnetic charging cable giving you 90 minutes of battery life when fully charged.
New Technology Blackhead Vacuum: 3 different power settings are suitable for various skin types providing a deep cleaning experience. Choose from 3 different suction heads for every area of the face allowing for a comprehensive clean. The blackhead vacuum has a low noise level for a more pleasant experience when cleaning.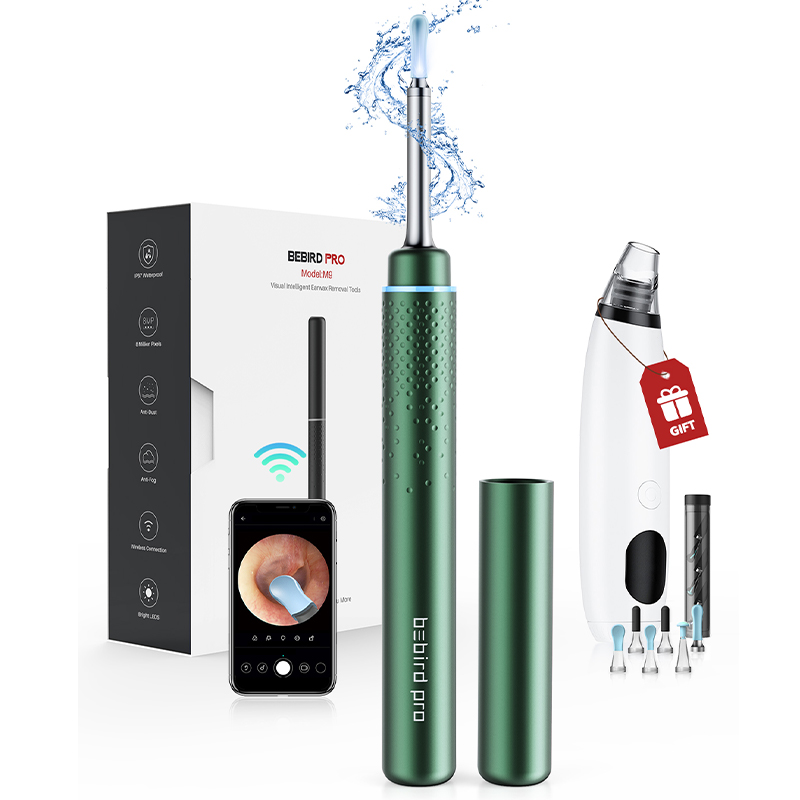 Bebird Pro Smart Visual Ear Removal M9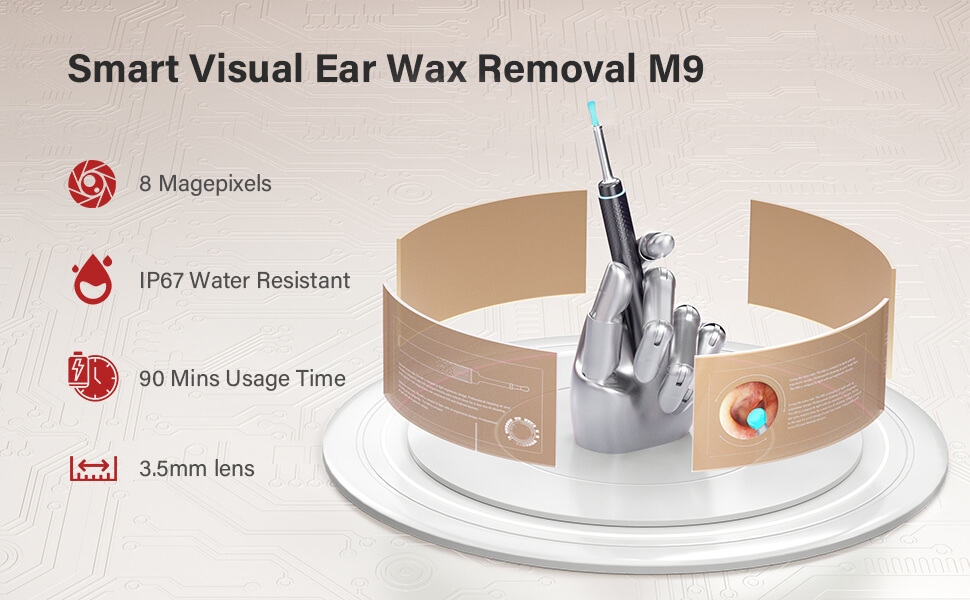 Bebird Pro M9 earwax remover with HD 8MP camera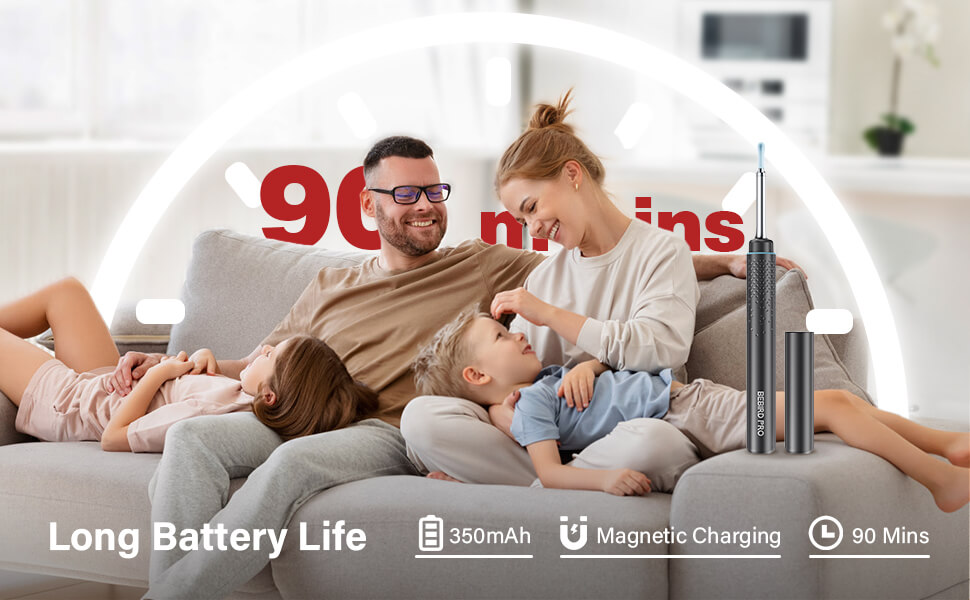 Bring a new safer enjoy to your family
It is very easy and safe to use that can check your ear, mouth, nose or other parts on your own anytime and anywhere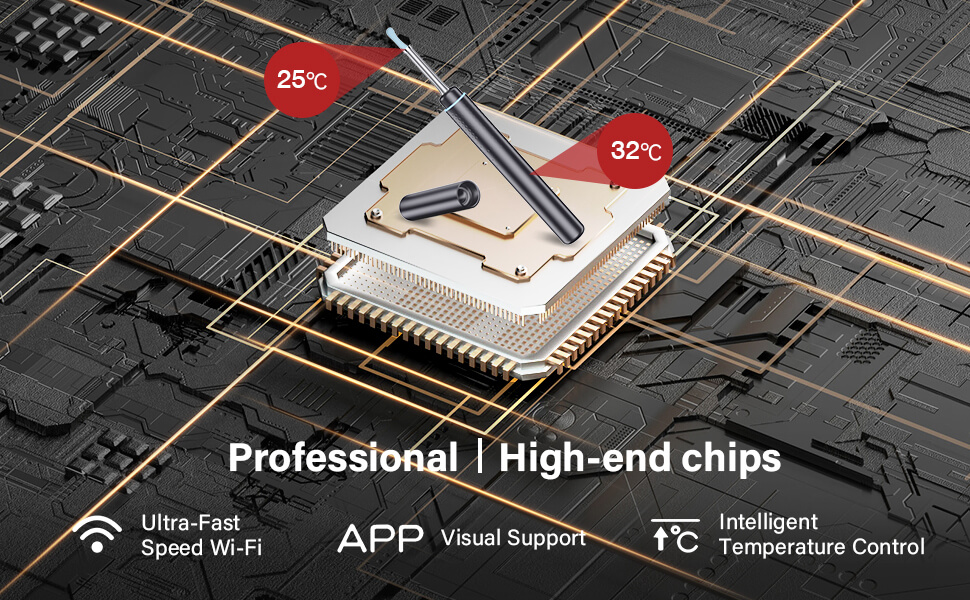 One-step connection, and you could enjoy self ear-picking at home!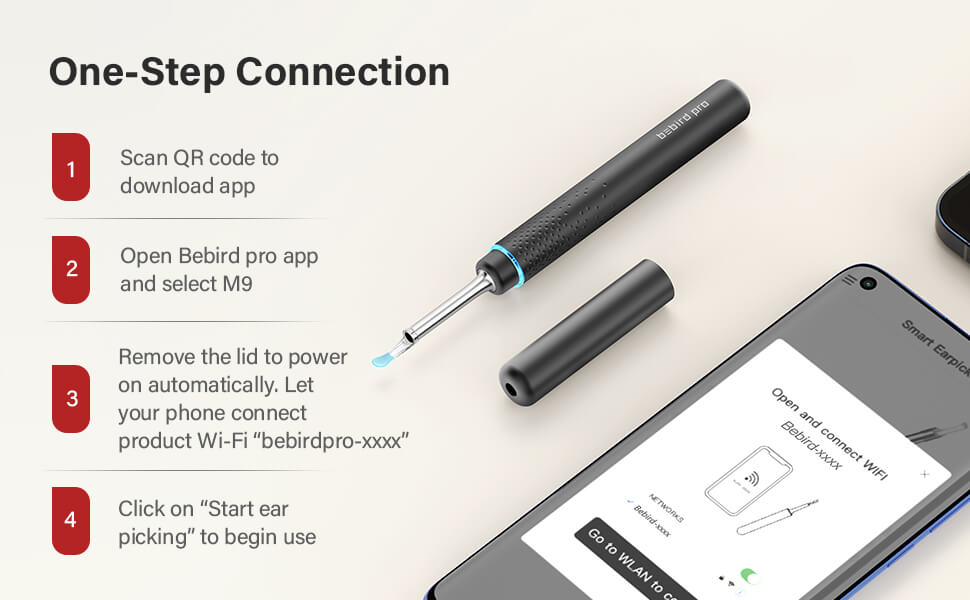 Scan QR code to download app
Open bebird pro app to select M9
Remove the lid to power on automatically. Make sure your phone was connected with WIFI "bebirdpro-xxx"
Click on "Start ear picking" to begin use!!
Package Contents
          What you will get:
M9 Ear Wax Removal Tool
Ear Speculum
Magnetic Charger
Blackhead Vacuum(Battery not included)
Ear Wax Removal Kit
Blackhead Suction Head